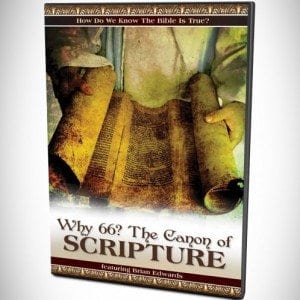 New video series starting Thursday, December 31st!
Have you ever wondered how we know that we can trust the Bible, why we have 66 books in our Bible, or where our modern Bibles really came from?  New on Genesis Science Network, we will be airing the "How do we Know the Bible is True?" video series featuring Brian Edwards and made by Answers in Genesis.
We will be airing this series during our weekly History Homeschool Hour every Thursday, starting at 10:00am (Central).  Below is a list of which episodes air each week
Thursdays – 10:00am (CST)
December 31: Scripture Under Scrutiny

Learn about the best selling book of all times. Where does our Bible come from? How did it come to us? What do we mean by "inspiration"? And why can we be sure that it is reliable? These and many other questions are answered in this presentation.

January 7: The Authentic Christ

Christians will understand as never before the amazing significance of Jesus of Calvary and all that His death means for us. Non-Christians will see the vital necessity of responding to Him as Savior and Lord and acknowledging Him as the Son of God.

January 14: The Life of William Tyndale

Learn about the incredible life of the man who risked everything to print the Bible in English so that the Word of God could be read by commoners.

January 21: Why 66? The Cannon of Scripture 

Join us as we trace the story of the Hebrew Scriptures, widely known as the Old Testament, and the writing and acceptance of the books of the New Testament.